Fourteen days.
That's all that stands between the Ottawa Senators and what could be the biggest trade deadline in the history of the franchise.
It's sort of terrifying to think at this time two weeks from now, we could be faced with the possibility of three blockbuster trades in a single day.
And while you would hope that Pierre Dorion has a plan here that doesn't involve trying to make all these deals at the same time, he really isn't leaving himself a lot of flexibility.? Also, it's likely that should he decide to move one, two or all three of Mark Stone, Matt Duchene and Ryan Dzingel, he may not see the best offers until the last minute.
It's a good thing he has lots of help in that Front Office.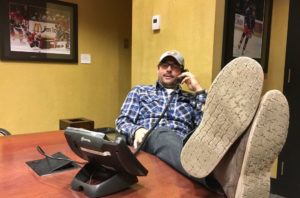 With that comforting visual, time for Monday News and Notes.
-Safe to say that Logan Brown has officially reestablished himself as a high-end prospect.? He has been so bogged down with injuries the last couple seasons that it seemed like he had sort of become the forgotten guy in the Sens system.? Which is crazy because when he is at his best, he's a 6'6 centre with high-end offensive instincts and the ability to dominate the play in the offensive end of the rink.? He has done it in Junior and now he's finally starting to figure out the pro game.? Brown has 10 points in his last four games including a highlight reel overtime winner against the Marlies yesterday in Toronto. He's inching towards a point-a-game pace and along with Drake Batherson, is dragging that Belleville team into the playoff mix.
???? Logan Brown OT winner!! His 12th goal of the season and second point of the game makes it a 4-3 final for Belleville over Toronto. ระดับรางวัลpic.twitter.com/6gcmMOrasC

— Sens Prospects (@SensProspects) February 10, 2019
-Thomas Chabot, Brady Tkachuk, Colin White, Rudolfs Balcers, Christian Jaros, Christian Wolanin, Max Lajoie, Logan Brown, Drake Batherson,?Filip Chlapik, Filip Gustavsson,?Marcus Hogberg, Alex Formenton, Josh Norris, Jacob Bernard-Docker, Jonny Tychonick, Joey Daccord. Sorry, there's no thought here. Sometimes I just find it helps to list off all the young players the Sens have coming up through the system right now.? Still need to make some good moves, find a way to retain top players and hit on a couple more draft picks but sometimes, if you squint just a little bit, you can sort of see the path to getting this team back on track.
-Now about that retaining top players thing.? Last week was another quiet one on the Mark Stone, Matt Duchene and Ryan Dzingel front although as you'd expect, speculation is at an all-time high.? Have mentioned this a few times now but it really sounds like the Senators want to have a clear picture on all three of those guys this week.? During the Saturday Headlines segment over the weekend, Chris Johnston mentioned that Dorion's plan is to let other teams know 10 days in advance what he plans to do with those three. So that means on Friday, Pierre Dorion will enter the GM Group Chat, and let 30 other GMs know what's up.? Based on everything I've heard over the last couple weeks, I would say the outlook isn't great.
-Another interesting point from that Saturday Headlines was the idea that Matt Duchene could potentially be traded at the deadline only to return to Ottawa as a free agent this summer.? It's no secret that Duchene loves Ottawa. So much so that this was where he wanted to end up during the saga with the Colorado Avalanche.? While this would be basically a best-case scenario for the Senators were it to play out that way, I really, really can't see it.? If Duchene hits the open market, he would almost certainly be offered a deal and more importantly a contract structure, that the Senators simply could not match.? For what it's worth, Chris Johnston expanded on those comments yesterday, adding the possibility that the Senators could make Duchene the Captain, should Mark Stone not sign an extension.? Certainly the first time I've seen that possibility mentioned.
-While Stone, Duchene and Dzingel continue to grab all the headlines, there is also a second tier of guys that could draw interest at the deadline.? Cody Ceci's name is at the top of that list and by all accounts, it sounds like he could be on the move in the next couple weeks.? Ceci's RFA status means there is a little less urgency to get something done before February 25th but teams will be calling.? The Tampa Bay Lightning have apparently had interest in Ceci for awhile now. Ottawa would certainly consider a deal involving Zack Smith or Mikkel Boedker but both guys have another year on their deal making it a tougher sell.? Same thing with Craig Anderson.? Will be interesting to see if they get any calls on the two other UFAs to be in Anders Nilsson and Magnus Paajarvi.? Both guys have played well the last little while and have maybe done enough to draw some interest around the league.