The Ducks are terrible. The Senators are worse.
Tonight, two teams will step onto the ice in Kanata with five game losing streaks in tow.? When the final buzzer sounds, one of those streaks will hit six.? Although the way things have gone for these two teams the last little while, it's hard to completely rule out both teams losing.? Maybe a tie?
The stakes could not be lower. Anaheim and Ottawa go head to head at the Canadian Tire Centre in a game the experts are calling "a Thursday night game".
When the two teams spend the morning media availability arguing over who is struggling more, you know you're in for a real treat.
Ducks captain Ryan Getzlaf offered up a good line this morning, when asked about meeting the struggling Senators: "I don't even know if they're struggling…I don't think anybody is struggling like we are."

— Ken Warren (@Citizenkwarren) February 7, 2019
Seriously, there's not a whole lot to say about this one so let me take this moment to get something off my chest.
It was the summer of 2007. The same year the Senators lost to the Ducks in the Stanley Cup Final.
A friend called me up and said there was a party happening. It was at Gracie's. It was…a Stanley Cup celebration for Anaheim Ducks defenceman Kent Huskins.? I wrestled with the decision to attend.? As a die hard Sens fan, could I really attend a Stanley Cup party for a player on the team that beat the Senators?!? The answer was yes. Yes, I could.
In fact, I went there with the intention of stealing back the Stanley Cup that the Ducks had stolen from me.? And if not for the quick reaction of that Gracie's bouncer, I might have completed my mission.
I guess what I'm saying is I failed all of you that night.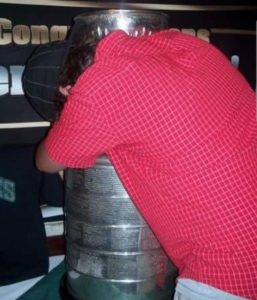 Anyway, here's a best guess at the line up for this one. The plan is to go with 12-6 and it sounds like there's a chance that Cody Goloubef might be making his Ottawa debut.
Dzingel-Duchene-Ryan
Tkachuk-White-Stone
Smith-Pageau-Paajarvi
Rodewald-Tierney-Balcers
Chabot-DeMelo
Lajoie-Ceci
Borowiecki-Harpur
Anders Nilsson gets the start in goal for Ottawa. Puck drop is scheduled for just after 7:30 PM.
The game is available on TSN5, RDS2 and if you insist on watching this hockey game, can probably be streamed on the internet somewhere.
And now….a table.
HEAD2HEAD
Record
21-24-9 (51 pts)
19-29-5 (43 pts)
Goals For
2.26 (31st)
3.08 (12th)
Goals Against
3.15 (T-21st)
3.75 (31st)
Power Play
14.2% (29th)
20.8% (16th)
Penalty Kill
79.5% (17th)
76.6% (27th)
Shots For
27.1 (31st)
29.6 (24th)
Shots Against
34.2 (29th)
36.3 (31st)
Leading Scorers
Getzlaf- 34 pts
Henrique- 27 pts
Rakell- 25 pts
Stone- 52 pts
Duchene- 49 pts
Chabot- 40 pts
Starting Goalie
John Gibson
17-18-8
2.93 GAA, .914 sv%
Anders Nilsson
7-12-1
2.87 GAA, .906 sv%